Inspirational story about musician who found solution to keep playing his favorite instrument
When aspiring drummer Jason Barnes lost his right arm two year ago, he didn't give up on his dream of being a professional drummer. Instead, he built a crude prosthetic using springs that allowed him to keep playing his favorite instrument.
His efforts and passion for the music got him enrolled at the Atlanta Institute of Music and Media, where he met Professor Gil Weinberg who realized he could build Barnes something better.
In addition to a small robot arm that allows Barnes to accurately control a drumstick vis-à-vis the muscles in his upper arm, the prosthetic also has a second drumstick that plays autonomously. It includes a microphone and accelerometer to read Barnes' rhythm, and it automatically starts drumming along with a complementary rhythm of its own.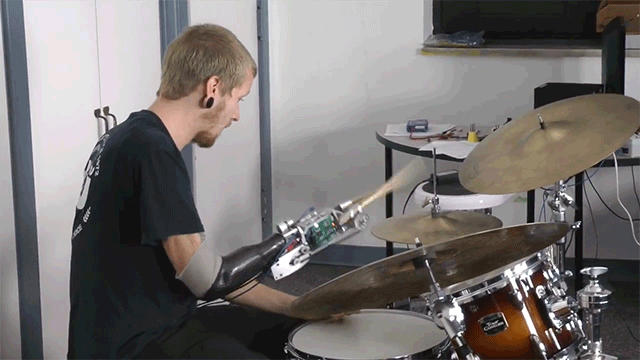 Barnes still needs to perfect the use of his new prosthetic, but things are working out so well so far that he will actually be performing in a concert at the Atlanta Science Festival in a few weeks, where he'll be playing alongside some of the school's other autonomous devices.
Video of Barnes in action below: