Integration of wearable technology was inevitable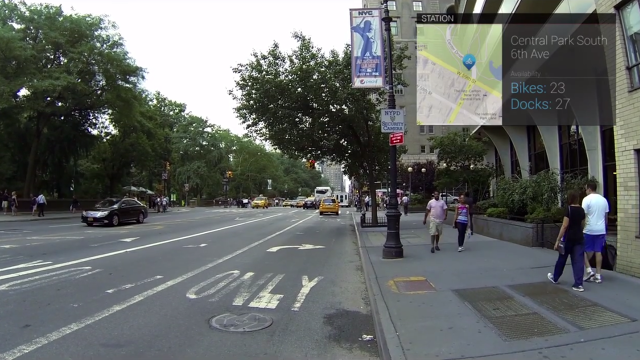 R/GA Prototype Studio has developed a Google Glass app called "NYCycle" specifically for New York City's Bike share program to help bikers navigate their way through the streets of the city without ever having to pull out their phones as reference for directions.
Marc Maleh, R/GA's group director, pointed out how even the most experienced NYC riders struggle to find their way around the town's numerous streets without referencing their phones at least once.
Listening for audio directions is even harder, what with all the noise from traffic, construction, etc.
Some might even say that this idea is as natural as putting a Bluetooth portable speaker on the handlebars of one's bike.
But I digress—the platform upon which all of the data is being drawn is open sourced. As such, it shows tremendous promise in that it can constantly be updated and improved upon.
Maleh says that his group has every intention to bring this hands-free app to other cities, but only after the technology has a chance to mature and become more of a final product.
For now, though, those lucky enough to have a pair of Google Glass on hand can go to the site and download the app to give it a whirl.
To see it in action, check out the demo video below: